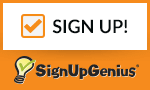 Click on the Sign Up Genius above to sign up for Summer Camp Volunteering.
Parent Volunteers
Effective July 1, 2014, the Archdiocese of Detroit's Office for Safe Environments requires ALL volunteers to complete a three-hour Protecting God's Children Workshop. More information is on the diocese website at www.aod.org
Parents and friends who wish to volunteer at DLS must
Volunteers MUST bring in both documents together – certification of completing the workshop and the background check form – along with a valid driver's license to Mrs. Sandy Carra in the main office for verification. She will make a copy of the driver's license and keep the copy on file along with the workshop verification and background check form.
You will not be able to volunteer until these requirements are met. This is for ALL parents who volunteer at school in ANY WAY – chaperoning events, field trips, Dads' Club and CBA functions, Music Boosters, WAMS volunteers, Senior All-Night party, etc.
Questions Regarding Protecting God's Children: Sandy Carra, scarra@delasallehs.com, 586.541.6200.
Volunteering is an expectation of your Financial Aid acceptance agreement.
Questions about Volunteering: Sr. Pat Eeckhout, peeckhout@delasallehs.com, 586-541-6277
De La Salle Collegiate is an all boys, Lasallian Catholic high school, conducted by the Brothers of the Christian Schools since 1926.
De La Salle is located in Warren, Michigan, a Detroit suburb located in Macomb County. The school offers a college prep curriculum. De La Salle's athletic teams are called the Pilots, and nearly every team is part of the Catholic High School League, operated by the Archdiocese of Detroit.
Interested students are invited to contact the Admissions Office for Application information, as well as information regarding financial aid and tuition.